Some of the most skilled artists in the Guild Wars 2 community are sharing their in-progress artwork on the weekly Guild Wars 2 Art Show—and on the monthly Sunday Class livestream, the hosts provide tips and tricks to help you take your own art to the next level.
This month's Sunday Class begins at 0:00 PDT (UTC-7) / 8:00 CET (UTC+1) on October 30. It should be noted that on Oct 30, European Daylight Saving Time ends, and clocks will be set 1 hour back, returning to standard time (CET).
This stream will run for approximately ten hours, with our five presenters each having a two-hour timeslot within which they'll go over their processes and techniques for creating their artwork.
---
This Month's Presenters
Gears2Gnomes
0:00 PDT (UTC-7) / 8:00 CET (UTC+1)
Gears2Gnomes returns with a yearly Halloween piece! Learn more about how to create a spooky atmosphere in your works.
Kasimova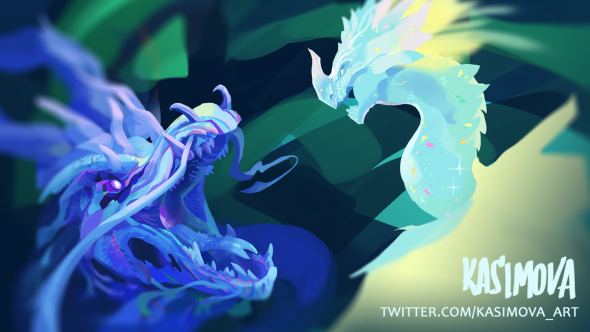 2:00 PDT (UTC-7) / 10:00 CET (UTC+1)
Kasimova will be going over illustration from start to finish: ideation, process, colors, and composition.
KoboldArt
4:00 PDT (UTC-7) / 12:00 CET (UTC+1)
KoboldArt will explain the comic creation process with a Halloween-themed strip.
Dies Vitae
6:00 PDT (UTC-7) / 14:00 CET (UTC+1)
Dies Vitae will be building an illustration from the start, showing how to use composition, colors, and a few useful tricks to tell a story.
Aun Hana
8:00 PDT (UTC-7) / 16:00 CET (UTC+1)
Aun Hana will be ending our day with a lighthearted showcase of technique and how to bring line drawings to life with color.
---
You can check out archived recordings of the Guild Wars 2 Art Show and previous Sunday Class livestreams on our official Twitch channel.