Check our official site on Mondays for a schedule of the week's activities, and follow our Twitter, Instagram, and Facebook accounts for news and updates. Don't forget—you'll always find important information, Guild Wars 2 discussions, and community resources on our official forums.
If you're new to Guild Wars 2 or returning to Tyria after a long journey, browse the #GW2Info hashtag on Twitter for helpful tips! Have you gathered knowledge and wisdom on your adventures? Use the hashtag to share your own tips with the community.
Return to the Living World Story: "Long Live the Lich"
The asuran entomologist Gorrik is on trial, accused of plotting to unleash a deadly infestation. Head to the Free City of Amnoon to talk him out of trouble, but take care not to mention the Scarab Plague—you wouldn't want to cause a panic. Living World Season 4 continues the story of Guild Wars 2: Path of Fire™, which you'll need to own to play the free episodes you unlock.
Locations: Domain of Kourna
Valuable Treasures: Inscribed Shard
New Mount: Roller Beetle
Meta Achievement: "Long Live the Lich" Mastery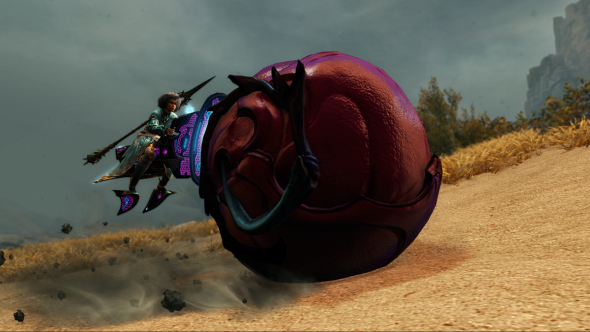 Catch up on the story of the dragon cycle and prepare for Guild Wars 2: End of Dragons. Log in to Guild Wars 2 between 7 September and 13 September to unlock this week's spotlight episode for free! Check your in-game mailbox for a letter containing a story unlock token. You'll find the unlocked episode under "Living World™ Season 4" in your story journal tab, which is located in the Hero panel. If you've already unlocked the episodes previously, you don't need the tokens—you're good to go!
New achievements for the episode are available in the "Bonus Events" category of your achievements tab. You can complete these at any time to progress the Seasons of the Dragons meta-achievement and work toward earning legendary rewards.