Battlelord's Cape Hood Combo
Everyone knows about the dashing rogue sitting mysteriously in the corner of the tavern: hood pulled up to obscure their (probably handsome) face, traveling cloak coated with dust from a long and unknown journey. Now it's time to be that dashing rogue.
These items will change the appearance of your helm and back item. They will also permanently unlock these skins in your wardrobe. The package also includes a Lambent Battlelord's Hood Helm Skin variant with glowing eyes. These items are only available as a package and cannot be purchased individually.
Toy Duck Fishing Rod Skin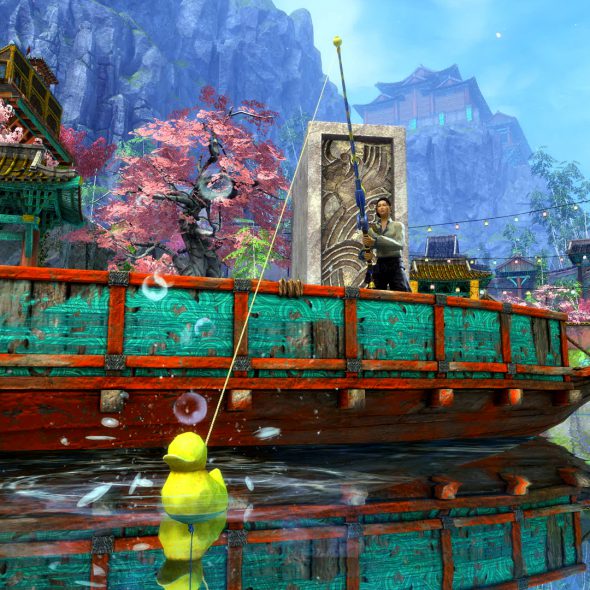 Tired of losing your bobbers all the time? Sounds like you need an upgrade. A squeaky, bright-yellow upgrade. Go ahead—the world is your duck pond.
This item will change the appearance of your fishing rod. This item will also permanently unlock this skin in your wardrobe.
Wintersday Choose Your Own Appearance Package
Make your own Wintersday getup with this full-featured package! The Wintersday Choose Your Own Appearance Package contains the following items:
Wintersday Outfit Voucher
Wintersday Accessories Voucher
Wintersday Weapon Voucher
Wintersday Dye Voucher
Total Makeover Kit
Each of the vouchers contained within this package can be exchanged for a variety of Wintersday-themed items! Put together your own unique look and try out the brand-new Snow Garden weapon skin collection. (Limit one package purchase per account.)
Discounts
For the next week, we're offering a 20% discount on Character Slot Expansions! This item will add one additional character slot to your account, allowing you to try out new playable races and professions.
Returning This Week
We're bringing back some Wintersday-themed goods this week, including:
Arctic Explorer Outfit
Cryomancer Glider Skin
Fancy Winter Outfit
Glacial Glider
Ice Encasement Outfit
Winter Monarch Outfit
Winter Solstice Outfit
Seasonal Swap
Starting this Friday, look for the following items to be added to the Gem Store at a 20% discount:
Aurene's Crystalline Claws
Aurene's Crystalline Diadem Skin
Conjured Starlight Hat Skin
Dragon Mask Skin
Etherbound Greaves
Etherbound Gauntlets
Etherbound Pauldrons
Fuzzy Leopard Hat
Fuzzy Panda Hat
Ghost of the Deep Spaulders Skin
Glint's Gaze Mask
Lion's Mask Skin
Magical Unicorn Horn Set
Raven Gloves Skin
Raven Helm
Raven Mantle
Sailor's Beanie
Salvaged Forged Gloves
Salvaged Forged Helm
Shadow of the Dragon Gloves Skin
Shadow of the Dragon Helmet Skin
Shadow of the Dragon Shoulder Skin
Shrine Guardian Ears Package
Stylish Shoes Skin
Swaggering Boots Skin
Swaggering Hat
Top Hat
Vermilion Vambrace s
Wizard's Hat
Xera's Mask
Available Now in the Gem Store!

Log into Guild Wars 2 and press 'O' to access the Black Lion Trading Company for these great offers and more!