Team ArenaNet's Extra Life Game Day is next week on November 5. We're overwhelmed by your generosity and community spirit; with our community's power we've already raised over $17,000 USD this year to support Children's Miracle Network hospitals! Our ultimate goal is to bring our lifetime total funds raised to $500,000 USD, and we need your help to do it.
Your donations will help children's hospitals across the United States and Canada care for ill and critically injured children whose families need support. They'll also help hospitals buy pediatric medical equipment, fund disease research, and invest in protective measures against the COVID-19 pandemic.
To donate to Extra Life now, visit the Team ArenaNet page. If you'd like to help us reach our goal by streaming any game or telling your friends and family about Extra Life, choose to join Team ArenaNet when you sign up! If you want to form your own team, you can select "Create a sub team" when you sign up to join the ArenaNet Super Team.
The funds you raise as a member of Team ArenaNet will contribute to our overall donation total. As in previous years, if we reach the $25,000 USD donation goal, we'll match it to bring the total donation to $50,000!
Extra Life Game Day Livestream
On Game Day, members of Team ArenaNet participate in a 24-hour gaming marathon to raise funds, have fun, and hang out with the community. The stream begins on Friday, 5 November at 7:00 p.m. (noon Pacific Time) and ends on Saturday, 6 November at 7:00 p.m. (noon Pacific Time).
During the livestream, Team ArenaNet will play Guild Wars® and Guild Wars 2 content, offer personal donation milestone incentives, and talk about what Extra Life means to them. Join them in game or watch the stream on our official Twitch channel. We'll see you there!
Donation Strike Mission: Kids Can't Wait
Log in to Guild Wars 2 between 26 October and 16 November to receive the title "The Extra Life" if you didn't unlock it in previous years.
A special enhancement effect is available in game from now until November 16:
+5% Magic Find
+5% EXP from all sources
+3% WvW reward track progress
+3% PvP reward track progress
The effect will gain another stack for every $10,000 USD we raise. To activate new stacks of the enhancement effect and view hourly donation total updates, just visit the city of Lion's Arch after you log in to Guild Wars 2.
2021 Extra Life Donation Bundle
Visit the Gem Store for a free Revive Orb! Starting today, Evon and the Black Lion Trading Company are also offering special donation items to help us reach our goal.
Extra Life donation items will be available until 9 November and purchasing any of them will grant you a special version of the in-game title "The Extra Life" in stylish blue text. We'll donate all proceeds to Extra Life.
2021 Extra Life Donation Bundle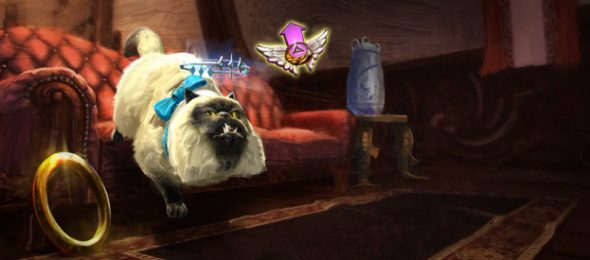 Lady Wisteria Whiskington has taken a fancy to the cause, and is surrounded by a benevolent healing aura in the Extra Life spirit. This bundle contains a Mini Circle of Love Lady Wisteria, five Extra Life Karma Boosters, and five Temporary Selfless Potions.
2019 and 2020 Extra Life Donation Bundles
If you missed the previous donation bundles, they're back in the Gem Store for a limited time. We'll be retiring these bundles after this year, so drop by and pick them up before 9 November!
Thank You
Our annual Extra Life Game Day is a success because the Guild Wars 2 community is full of real-life heroes. Let's break our fundraising record again this year!